State Tests in New Jersey - PARCC and Beyond
History of Assessment in New Jersey
New Jersey has administered statewide assessments since the 1970s, and over the years the testing program has evolved. It began as a measure of basic skills, and after 1996 it has assessed New Jersey academic standards. In 2002, after the federal government enacted the No Child Left Behind Act, every state was required to test students in mathematics and English language arts (ELA) in grades 3 through 8 and at least once in high school. That mandate is still in effect under the Every Student Succeeds Act of 2015.
PARCC Assessments 2018-2019
The Partnership for Assessment of Readiness for College and Careers (PARCC) is a consortium of states that collaboratively developed a common set of assessments to measure student achievement of the Common Core State Standards and preparedness for college and careers. In 2014-15, the PARCC electronic assessments replaced the existing statewide assessments -- the NJASK in grades 3-8 and HSPA in high school. New Jersey had been transitioning the NJ ASK to measure higher-level skills for over three years to provide local districts and schools the time necessary to shift practices and prepare students and educators for PARCC.In 2015, the core standards were reviewed and revised to ensure that they set consistently high expectations for New Jersey students. In May, 2016, the New Jersey State Board of Education adopted the revised mathematics and English language arts standards and changed the name of all nine areas of New Jersey standards to the NJ Student Learning Standards.
The PARCC assessments are aligned to high-level thinking skills and were created to measure the ability of students to apply their knowledge of concepts rather than repeat memorized facts. The PARCC assessments require students to solve problems using mathematical reasoning and to be able to model mathematical principles. In English language arts (ELA), students are required to closely read multiple passages and to write essay responses in literary analysis, research tasks and narrative tasks. The assessments also provide teachers and parents with information on student progress to inform instruction and provide targeted student support.
NJSLA Science
The New Jersey Student Learning Assessment for Science (NJSLA-S) measures student proficiency with the New Jersey Student Learning Standards for Science. The science standards require assessment tasks that examine students' performance of scientific and engineering practices in the context of crosscutting concepts and disciplinary core ideas. The three-dimensional nature of the standards requires more complex assessment items and tasks. The NJSLA are only one component of a system of assessments that provide evidence about student learning. The data collected from the NJSLA-S, students' interactions with teachers on a daily basis, and their subsequent performance on teacher and district developed assessments combine to provide a clear and well-rounded picture of students' achievement.
New Jersey State Assessment 2019-2020
Governor Murphy tasked the New Jersey Department of Education (NJDOE) with transitioning toward a new generation of statewide assessment. Making the transition in phases ensures a smooth implementation in schools across the state and assures compliance with current state and federal mandates. Consequently, the NJDOE is recommending short term changes, now, with plans to further engage stakeholders throughout the 2018-2019 school year on longer term proposals.
To start the process, in May and June, the NJDOE logged more than 5,700 miles visiting New Jersey's 21 counties, holding 75 collaboratives and meetings in schools and at the DOE with students, parents and educators. Online webinars and a dedicated email address also were provided for interested parties that were unable to attend in-person. On July 10, 2018, the NJDOE issued an Assessment Outreach Report, which summarizes what was heard and describes short and long-term changes to advance a transition to the next generation assessment.
For a full text of the report, click here .
State Assessment Time Windows and Testing Times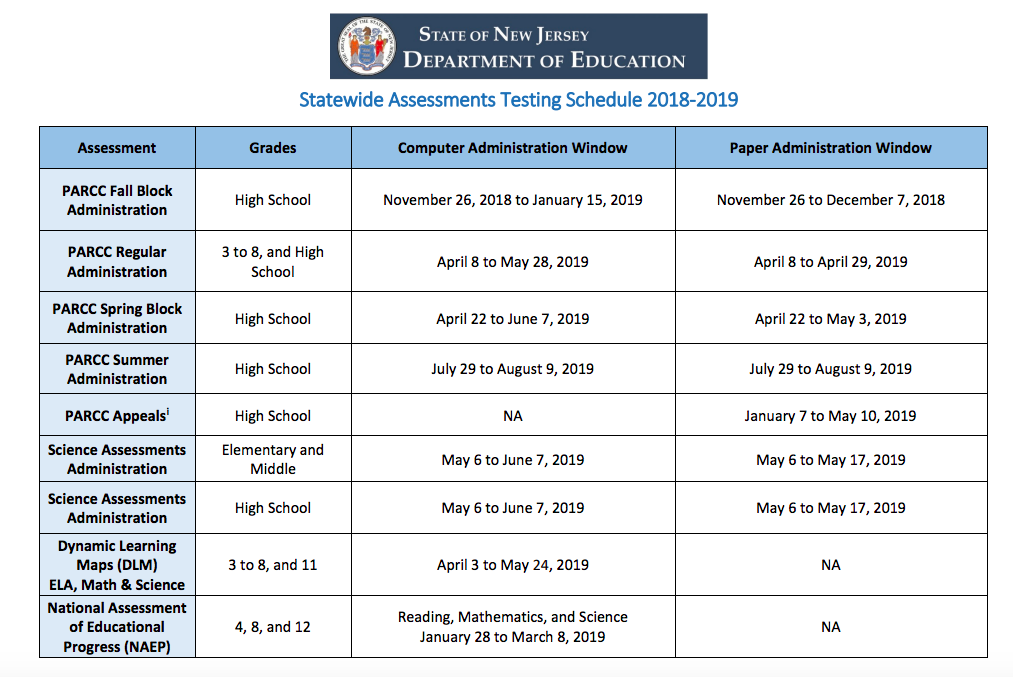 How Edcite Helps New Jersey Students Grow
#1 Prepare students for the PARCC assessment format
With Edcite, students experience navigating and completing a digital assessment. With Edcite Schools, students can practice with a PARCC-Aligned viewer that mirrors the navigation and tools that look exactly like the state test.
New Jersey Department of Education PARCC Practice Test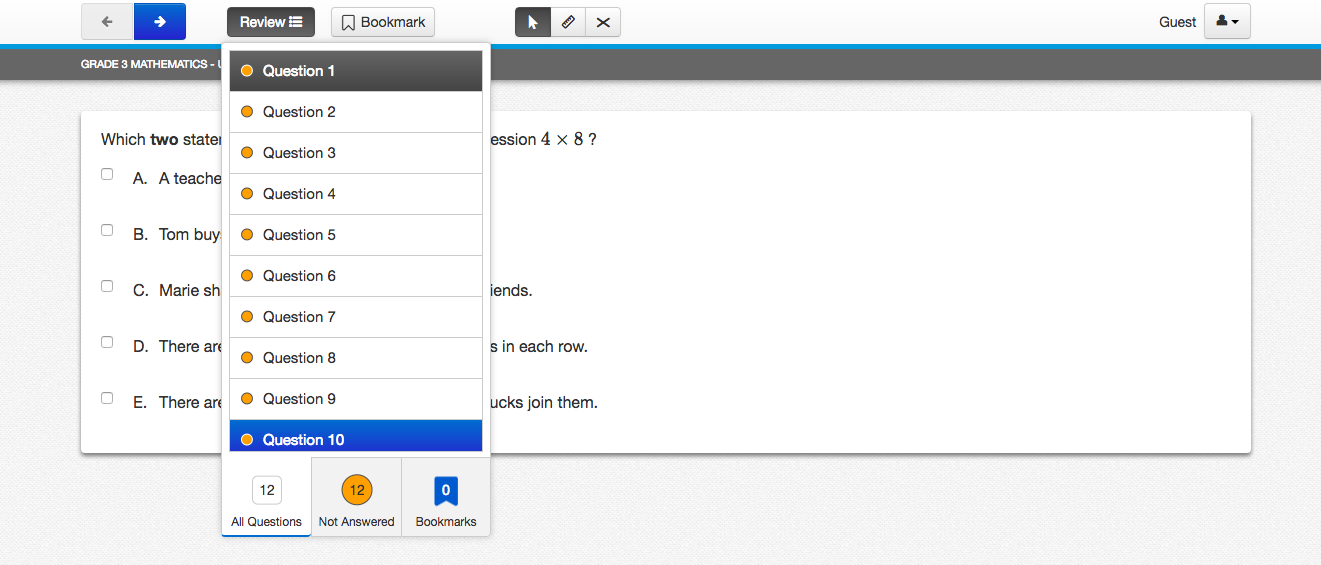 Edcite PARCC-Aligned Viewer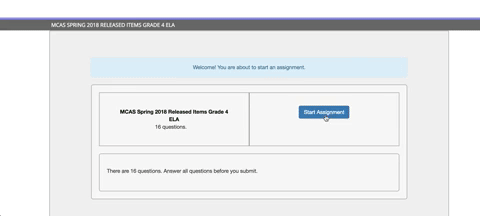 Participate in New Jersey Common Assessments to try out the PARCC-aligned viewer for free with your students. If you want your school or district to have access to the PARCC Viewer year round for any assessment, learn more about Edcite Schools.
#2 Prepare Students for Tech-Enhanced Question Types
Digital assessments present new opportunities for how to assess students. Practice throughout the year with these question types can prepare students for effective problem solving strategies. Below is a list of tech-enhanced question types that are on the New Jersey PARCC Test with a short description of how they will be used to assess student learning. For a full list of item types and details on their scoring, click here .
Equation Items - Some test items in grades 3-5 ask for the student to enter an expression for their response. Students will earn full credit for a correct expression or equation (including equivalent fractions). To receive credit for an equation, both expressions must be equivalent. As students in grades 6-8 receive further instruction on equations and expressions with the Expressions and Equations domain, more precise usage is required for credit.
Gap Match - Students must enter the correct word into a blank created in the answer. This will be either 1-point or multiple points. Single point items do not allow partial credit.
Grid Question - Students plot points on a grid or dragging and dropping text or images. Partial Credit is possible.
Hot Text - Students select an excerpt of the text to support their answer.
Inline Choice - Students choose from a list in a drop down to select their answer.
Matching Item - Students match answers for credit. Partial credit can be awarded.
Table Item - Students are presented with a table of questions and must choose / sort the proper column for each row.
Multi-Select Items - These are multiple choice questions with more than one correct answer. For grades 3-5, instructions will ALWAYS tell students how many answers to select (Select Two...). For End of Course (HS) exams, instructions will ALWAYS say "Select All Correct Answers" so students. Middle School asssessments will contain a mix of instructions so students should be ready for both.
Multiple Choice - All multiple choice questions will be worth 1 point and will award no partial credit.
#3 Actionable Data for New Jersey Educators to help students grow
We believe that teachers should not have to pay for premium features, so we offer live progress tracking and reports by question and by New Jersey standard for free for all teachers. To try out Edcite with your class, click Sign Up or choose to Assign one of the assignments to the right.
#4 Drive School and District Growth with Edcite Schools
Edcite Schools empowers Schools, Districts, and teams to give assessments that align to the state test in their look and feel, share data and respond to the data by creating intervention groups. To learn more, click on Edcite Schools above.
Build your own New Jersey - Aligned Assessments
Edcite is not just a library of assessments and questions, it is also an authoring tool. Teachers can create questions and assignments for free. With Edcite Schools, Districts can create content collaboratively and send across schools and classes. A full list of aligned New Jersey resources is below, you can use Edcite to create your own versions of these questions.